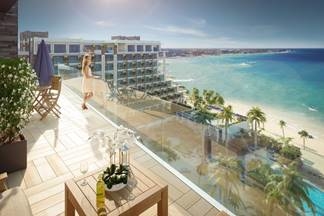 There were almost $700 million in property sales last year, the highest figure ever recorded, according to surveyors Charterland.
The Charterland analyzed every property transfer registered with the Land Registry last year to compile its market analysis report.
Some of the more significant sales include Dart's $32 million purchase of the Royal Palms development site, the $21 million acquisition of the Pageant Beach Hotel site by a development consortium led by Howard Hospitality Group and the $10 million sales of the Coconut Walk Estate on Boggy Sand Road.
Dart's purchase of The Ritz-Carlton, estimated at around $220 million in the report, is not included in the statistics because it involved the share transfer of a land holding company rather than a land transfer.
Beyond those major sales principally the Seven Mile Beach condo market was driving the overall upward trend.
The strength of the U.S. economy was likely fueling increased interest in holiday homes in Grand Cayman's main tourism district.
Simon Watson, a partner at Charterland, said he believed the property development market would continue to be a key driver of the Cayman Islands economy in coming years. (more…)
Robert McCrimmon March 20, 2018 BlogGrand Cayman, property, sales Read more >